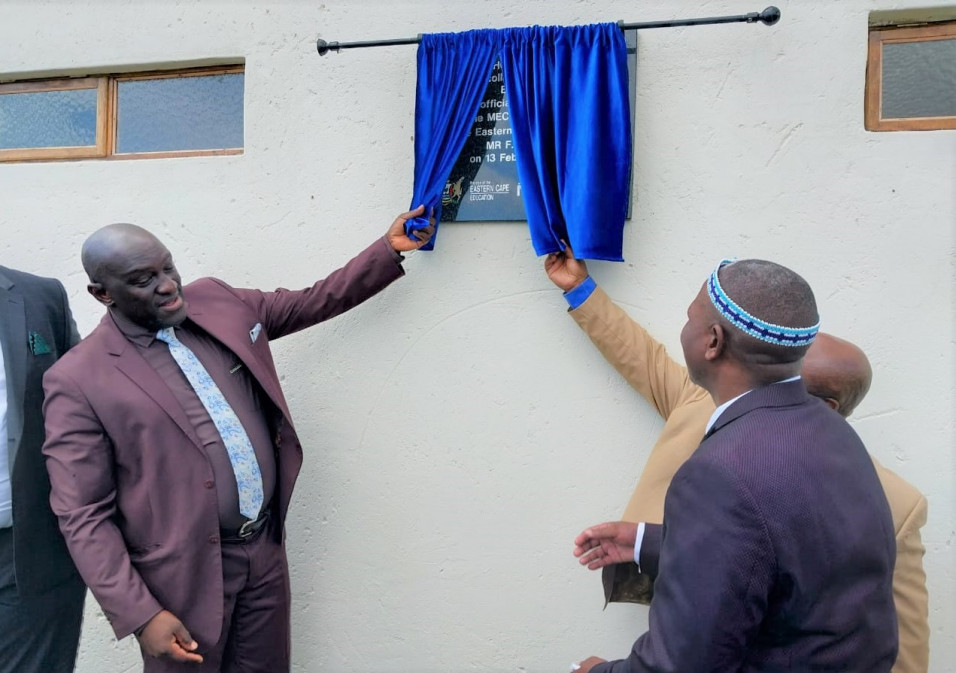 Author: Thando Ngcume
Date: 14 February 2023
The Eastern Cape Department of Education, MEC Fundile Gade unveiled the newly built facility that has 6 toilets for female learners 4 toilets for male learners with urinals, 4 toilets for female teachers and 2 toilets with urinals for male teachers, septic tanks with 500 litre wateranks.
Giving the keynote of the day was the ECDoE MEC Fundile Gade, said; "People's needs have been a huge problem in our province and people might lose hope in the government system, hence the department opens its eyes on Public and Private Partnership to assist where it is needed, therefore the Education sector is very pleased with the donor built, ablution facility at the school and wish that more investors can come on board to improve the Province."
Gade also launched and appointed a contractor to renovate the school to promote a safe, healthy, and conducive Reaching and Learning environment for the learners and teachers.
Speaking on behalf of the school was then school Head of Department, Nomalizo Baliwe Blayi she said; "The event was beyond our expectation especially when the MEC revealed a contractor to start with our school renovation project.

It's a privilege to have former learners (Mxolisi Hoboyi) that went all out to develop our school. Therefore, we would like to send words of gratitude to Easigas, Mxolisi Hoboyi Foundation and other relevant stakeholders, we feel very honored for having this day."
Remarks from the foundation started with the Sales Manager Esigas Nolitha Jadezweni, she said; "the collaboration with the Mxolisi Hoboyi Foundation it's a first on the project and our ideal goal, as we are an investing company especially on community development projects to disadvantage areas of the Province and hoping that more projects of this nature will come."
Mxolisi Hoboyi, Managing Director of Mxolisi Hoboyi Foundation said; "Human dignity begins at the toilet, hence I decided to commit myself to this project, It was never an easy road but today I can say that we have made it. All thanks to Easigas company for opening their door when we cried for help and hope that they will continue assisting others as well."
Vote of thanks was done by the School Governing Body member Mazithambe Nodolo he said; "I won't say much as alot has been said already by the previous speakers but I can think of a few words of thanks to everyone that came on board to make this a success and wishing success to the foundations and the presence of the Education MEC."