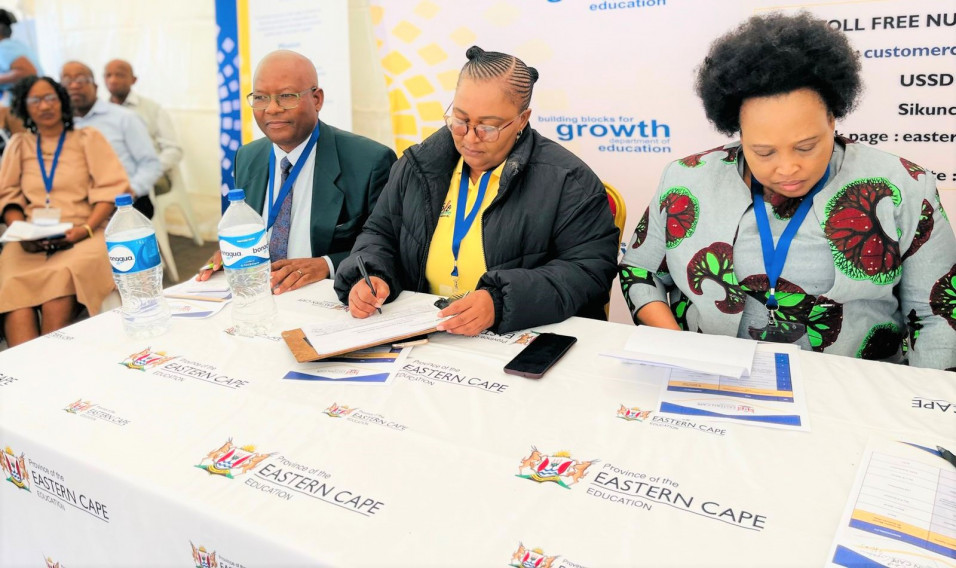 Author: Siphosethu Zimba
Date: 09 December 2022
Learners from six schools across the Joe Gqabi District Municipality and surrounding areas took part in the Inter-Departmental Learner Dialogue by the The Eastern Cape Department of Education together with the Department of Social Development, and the Eastern Cape AIDS Council (ECAC) recently.
ECAC leads in the coordination of World AIDS day commemoration. Interdepartmental dialogue was one of the build up events which precedes the world AIDS day. The buildup aimed at raising awareness and to get the youth and entire community to converse on HIV/AIDS, TB, STI, LGBTQI+ and other social behavioural issues and focus on the implementation of CSE.
Maletswai learners entertained the crowd with educational performances which were then followed by the DOE Debate which was facilitated by the Learner Support Agents (LSA).

The debate topic was: The Department strives to have healthy schools which are inclusive centers for learning and teaching, and accommodative to LGBTQI+ community. Learners debated on whether LGBTQIA+ community should be accommodated in schools or not.
The second dialogue was led by Department of Social Development, Social Worker, Noxolo Hendricks, who is a facilitator of "YOLO" which is a Social and Behaviour Change Programme targeting youth between the ages 15-24 years, both in and out of school.

"YOLO has 5 building blocks with 12 sessions. Today we implemented in Session 7: Risky Behaviours. The purpose of the program is to change Social and individual behaviors to reduce issues of HIV transmission, STI and teenage pregnancy", said Hendricks.
Grade 8 learner from Mehlomakhulu SS School in Hersherl, Okuhle Tapane, who took part in the learner dialogue said that from the Risky Behaviours topic, she learned that learners are always trying to impress friends and end up getting involved with older men who promise to buy them nice things and a fancy lifestyle.

"I believe that this leads to unprotected sex and being infected with diseases. I would advise learners to focus on school and self love, money won't buy you happiness or help you progress in school" said Tapane.
Acting Director, School Health, Safety and Learner Enrichment, Pam Gxuluwe stated that it is the duty of the directorate to oversee the health of learners and to make sure that children perform well at school.

"Today's programme is very important in building awareness on World AIDS Day and understanding what the day is all about. We have learners that are affected and infected by HIV/AIDS, some were born with it and some lost their parents to HIV/AIDS.

Living with a parent who's HIV+ can be hard on children and can badly affect their performance at school. This is why we implemented this programme as a tool to empower and educate them that living with HIV/Aids is not the end of the world."
She added that the learner dialogues will help children to talk about their experiences and challenges. It will help them heal and know that there are others living with the same conditions and where to go for help.